Gallery Six 2011 – 17: Themes from The National Gallery, London "For we know that all creation keeps on groaning together and being in pain together until now." Paul (Letter to the Romans)
Run your mouse over the thumbnail to show image, click thumbnail to view detail.






Enduring Creation
The Deposition
Supported by Angels
Rape of Ganymede
Jacob wrestling with the Angel
Martyr's Monument
Filthy Lucre: mixed media
2016 - 140cm x 100cm
War memorial: mixed media
2017 - 120cm x 70cm
The National Gallery houses one of the world's greatest collections of classical paintings. Most works have spiritual themes and others reflect Greek mythologies.
All human experience is portrayed in these paintings…Life and Death; Triumph and Tragedy; Agony and Ecstasy.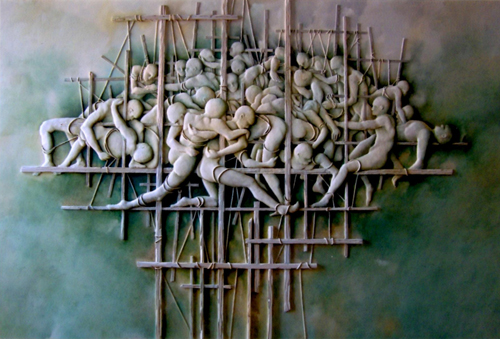 © Brian Collier 2023